"Last Saturday I was at the startline at the Ironman Lanzarote for the fifth time in my career. I fell in love with this island where I have already done a lot of training. The race is very special for me as well, despite of the fact that it is one of the most challenging race in the Ironman circuit. So far I finished three times and all of those finishes where on the podium: 1x second and 2x a third place.
Two weeks before this years race I got an injury in my lower leg. The result was that I didn't run for 2 weeks and that I was uncertain if I could finish the race. I decided to start and see if my leg would hold it to the end. I made a summary what went through my mind on race day…
Before the start: "I'm nervous. Would my leg hold it to the end?"; It's going to be a nice day. Enjoy and smash it!"
During the swim: "I don't know if I want to do this race again. It's a washing machine, you can't swim normally."; After 300 m: "It's not as bad as I thought. And I'm swimming good, the water is flat and I'm finding my rhythm."; "Wow I can almost start the bike part, that seems fast!"
During transition: "He, I don't feel any pain in my leg!"; "Keep calm….." During the long run on the tarmac to the bike: "still no pain?'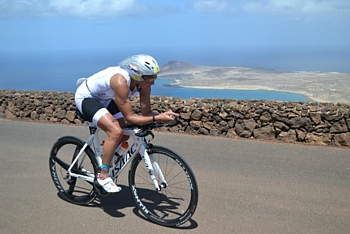 On the bike: "It's raining. Be careful, the road is wet, don't take any risks."; "I believe my legs are strong today." After 80 km: "Yes, that are already two fast ladies caught!"; "Ah, there is my training buddy Hanneke, she is doing great! ". Towards Mirador del Rio: "This is the first time this happens, now already in second place!"; "Keep pushing on the way back."; "Why are they filming me so much? I'm only second!"; "Almost done with the bike, I still feel fresh and I'm looking forward to run a marathon."; "Wow Kristen Moller has run already 3 km and I still have to do transition, she is really strong today! I guess a second place is the best I can get today because that girl can smash it on the run! Unless she gave too much on the bike……"
During the run: "The run feels good. Frequency and nutrition are key. And that is strange, I still don't feel my lower leg."; "The run isn't flat!"; "Ouch my calves, that's going to be a hard second part, but keep running."; "Only 10 km to go, the faster you run the shorter the time to the finish line."; "Number 3 is 6 minutes behind me, so if I keep running like this then there is no panic."; "It's almost a home race here with so many Dutch supporters and athletes."; "This is like a dream came true: finishing and as reward a second place."
It was a great day. Finishing an Ironman always is a mental game, but the more you enjoy the race afterwards.
Heleen was rocking the SLS3 Compression Tri Shorts and the FX Tri Top in white.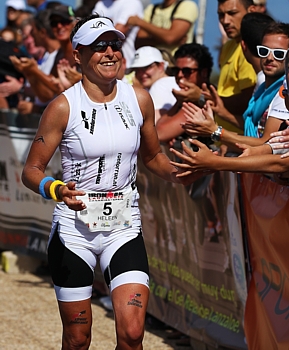 The party went on when my good friend and teammate Hanneke finished as agegrouper as 4th woman between the pros. And she qualified for Hawaii for the first time, well done!