Swimming is a crucial portion of the Triathlon, and if you are fast enough, it can boost your time ahead of your opponents. Training for the swimming portion isn't easy though, the time it takes on your way to the pool or ocean eats up training time, plus the consistency of getting an effective workout in, hinders improvement. Here are some techniques to help make the most out of your training in the water.
Maintaining Balance
It may seem counterintuitive, but kicking less will help you balance better in the water. It also cuts down on the energy spent kicking your legs, which will save your legs for the running and cycling portions of the race.

Your arms should be doing most of the work, and this portion of the race is designed for them to shine.
Quadrant Swimming
Quadrant Swimming is a technique used to cut down the amount of drag from your arms as you swim. It also helps balance out your body horizontally. To do the quadrant technique, always keep one arm pointing ahead of you. It's natural to keep changing arms while swimming, but keeping one arm straight forward, while the other one is pulling, will help improve your speed by allowing the water to flow over your body easily.
Breathe In Breathe Out
Keeping your breathing regulated while swimming is key to staying relaxed and keeping afloat. Instead of twisting and turning your head to get in a quick breath, relax your breathing and take a breath when your body naturally pulls your head out of the water. Your body will naturally rotate when you push, not when you pull, taking breaths when you push will help you maintain your breathing. Remember, if your breathing technique is poor in the swimming pool, it's not going to magically smooth out in the ocean. It's safer to practice your breathing technique in the pool versus the ocean. Once you master it in the pool, train your technique for the open water.
Indoor vs. Outdoor
Chances are if you are entering a triathlon, the swimming portion will be in open water. The best way to train for this is by practicing in the open water. Although pools are convenient and effective for training, there is a huge difference between swimming in a pool and treading waves. This will help you realize the difference in technique you use to help tread open water and therefore will allow to improve on your technique.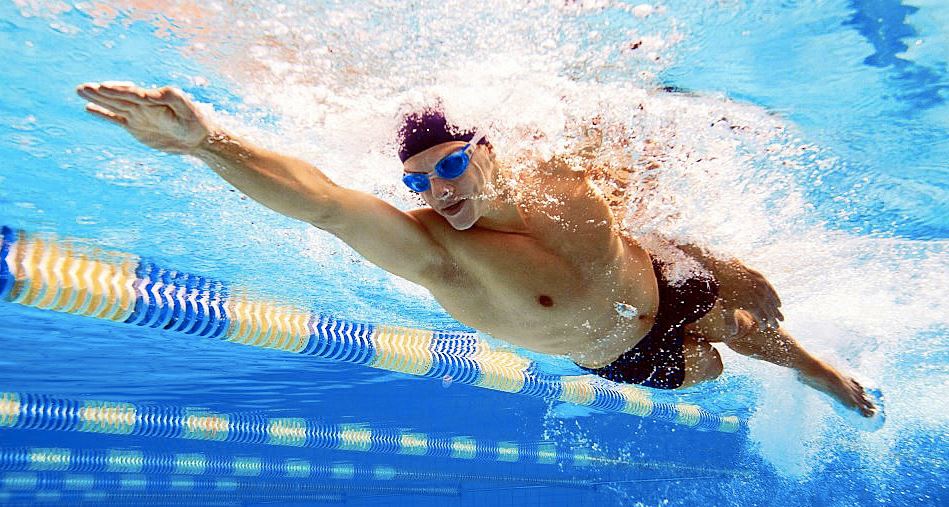 Getting Things Straight
It's important to train to swim in a straight line, because on race day, there will be no markers underneath the water to tell you where to go while your head is down. Not to mention, lifting your head to look ahead constantly is not safe or effective. In most races, there will be a marker of where you need to go. Look up every now and then to make sure you are going straight and not losing valuable time or energy. To do this in open waters, find a rock or another object that sticks out and is easily noticeable without paying too much attention. While you train, lift your head every now and then to make sure you are on the right track.
While the swimming portion can seem daunting, training for it will help you become faster, more efficient and confident in the water. Focus on technique and breathing to make this portion of the race a breeze. Remember, on race day there will be many people in the water and it will be hectic, relax and maintain your focus and your hard work will show through.